What's Happening in the Market?
As the third quarter of 2018 comes to an end it is encouraging to see residential market conditions in Niagara stabilizing into a more balanced market.
The Niagara Association of REALTORS® (NAR) reported 603 property sales processed through the NAR Multiple Listing Service (MLS®) system in September.  This represents a 10.2% increase in sales compared to September of last year.
The average days on market increased 11.1% from 36 to 40 in the residential freehold market and increased 7.1% from 28 to 30 in the condominium market from this time last year.
The residential average sale price of $408,412 had an increase of 1.4% versus last September while the number of active residential property listings increased by 14.8% versus September 2017.
Year to date, residential property transactions total 5,018 v.s. 5,878 for 2017 and 4,585 in 2013.  This represents a decrease of 14.6% versus 2017 and an increase of 9.4% versus 2013.  Despite the trend of an increase in the average days to sell v.s 2017, it is worth noting that the current average of 37 days to sell is 33.9% lower versus the 56 average days to sell at this time in 2015.  The sales price to list price ratio of 97.9% versus 100% in 2017 remains relatively steady.
Please refer to the accompanying chart below for market activity by municipality in the NAR service area (excludes Grimsby).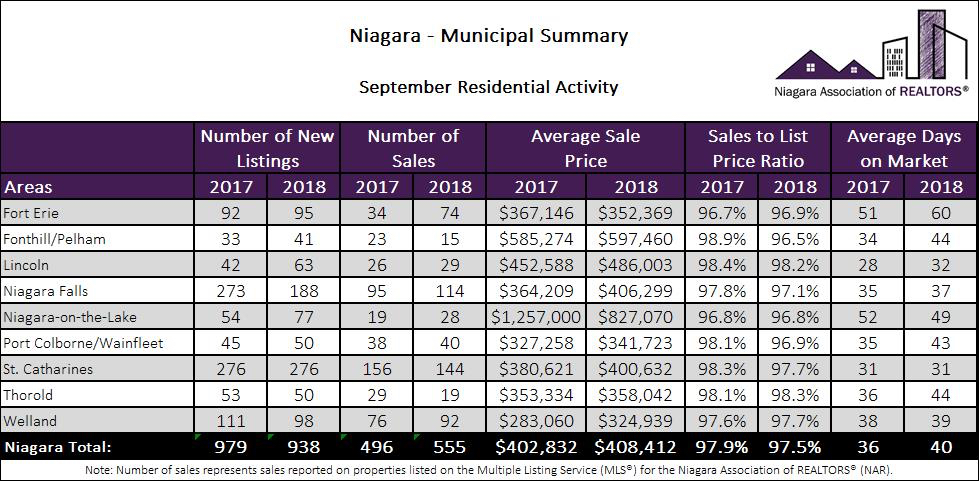 We want you to know that you can always feel comfortable contacting us with questions about market conditions, local business recommendations or the real estate services we offer.
Should you decide to recommend us to a friend or colleague, we promise to provide them with the services and information they need for their current home or next move.
Any questions, anytime, please give us a call.
John & Cathy
John Bosse & Cathy Berkhout-Bosse
Brokers,
TEAM BERKHOUT BOSSE
Remax Welland Realty Ltd.
www.TeamBB.ca
DIRECT: 905-892-8920
info@TeamBB.ca